Fair Use Disclaimer
Materials in this presentation were incorporated in accordance with Fair Use Guidelines and are restricted from further use.
California State Standard/Content Standard
11.1 Students analyze the significant events in the founding of the nation and its attempts to realize the philosophy of government described in the Declaration of Independence. Grade 11
 
Objective
After this lecture on Early American Revolution students will be able to write about what lead up to the American Revolution and what role the Declaration of Independence had on the revolution.
Intolerable Acts
Boston Massacre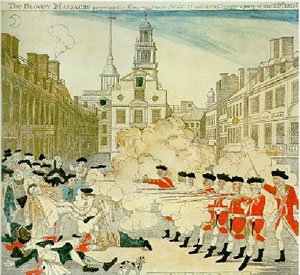 The Big Question
Why did the American Colonist feel so split from their Great Britain counterparts?