Acknowledgements: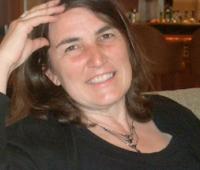 This exercise was developed by Dr. Katherine Rogers-Carpenter, a lecturer in the Division of Writing, Rhetoric and Digital Media and the Department of English, College of Arts &s Sciences at the University of Kentucky. Dr. Rogers-Carpenter uses a similar version of this exercise primarily as an in-class group activity in her course, WRD 110: Composition and Communication (or "C&C") I. ].
A required course in the University's general education program, UK Core, C&C I students are expected to demonstrate competent written, oral, and visual communication skills both as producers and consumers of information. Emphasizing critical inquiry and research, C&C instructors at UK encourage students to explore their place in the broader community and take a stance on issues of public concern—that is, to view themselves as engaged citizens. Students work independently, with a partner, or with a small group of classmates to investigate, share findings, and compose presentations through appropriate media, as well as to practice and evaluate interpersonal and team dynamics in action. Download the area description that provides more information about the goals and purposes of the UK's C&C courses at the UK Core website.
Step 1: Introduction to Rubrics
A rubric is a way to communicate the way a piece of writing or digital media should look like in its final form, and then evaluate the resulting work.  It is basically a description of the task that is laid out on a grid.  A good rubric divides up a writing assignment into its different components and gives a detailed description of what are acceptable (or unacceptable) levels of performance for each. 
If you agree with at least one of the following statements, you need to start using rubrics for your writing assignments:
I often don't understand why I get the grades I do on my papers in school.
Many times, people who read my papers or watch my videos don't get what I was trying to say.
When I submit a draft of my research paper, the teacher gives me comments that have nothing to do with the problems I think I'm having with the assignment.
A rubric has four basic parts:
A description of the task based on major categories important to the kind of writing to be done
Dimensions of the task laid out in each category
Descriptions of each of those dimensions
Descriptions of the levels of performance by a scale
There are rubrics that work well in all different kinds of disciplines.  Check out the rubrics showcased by the different subjects at Rubistar, an online rubric maker. Creating your own rubric based on categories you see in a writing assignment (including assignments resulting in digital media), will help you at both the rough draft and final draft stages.
Step 2: Practice Using a Rubric
A good way to understand how a rubric works is to try it out yourself on a sample student essay.  Practice on a sample of a draft of a college student's response to an assignment to write a 500 word narrative essay. The assignment included these directions:
The essay will show one aspect of your ethics or belief system. The essay should include:
An interesting introduction with a definition of a moral concept and a thesis statement
A discussion of who (or what) influenced your personal development in that particular belief system with some concrete details appropriate to the readers of your paper
A coherent narrative describing an experience highlighting a turning point in your life related to that moral concept
Explain how the moral decision you faced affected you thereafter
Restate the important points in the narrative and provide a conclusion
Now read the Student Essay, "Empathy, by Julie Smith" at http://web.gccaz.edu/~mdinchak/101online_new/ethics_example_essay1.htm
Use this rubric to assess the writing and determine how many points you would give it: http://web.gccaz.edu/~mdinchak/101online_new/rubric_narrativeessay.htm
Concentrate on the most important ways the draft could be improved – be sure and keep to the rubric.  Now start writing up your own comments about the student's draft essay with some productive comments.  Write down more than what's on the rubric to include your own ideas about how the sample essay matches a particular dimension of a category (or not). Develop a paragraph of constructive comments you would want to share with that fellow student.  First of all, explain what rubric categories the essay satisfies and then, secondly, the categories that don't seem to be addressed. It helps you be more clear in your own thinking to write with specifics about what you don't understand in the essay or what you suggest for revision -- what is the main point, what's missing, what needs more, what can be cut -- and why.
Step 3: Creating Your Own Rubric
Creating your own rubric is connected to learning how to analyze, interpret and evaluate messages that are conveyed in a variety of communication contexts: written, oral and visual. Give it a try.  Create a rubric that works well for this assignment on writing a whitepaper - download the Word doc for the assignment available on the University of Kentucky's WRD website: https://wrd.as.uky.edu/writing-whitepaper.
Here are the categories that you should use for your rubric: thesis, content, organization,  mechanics and diction, documentation and sources.  What are the characteristics for each of the dimensions associated with those categories?  For example if you had only 3 dimensions, how would you describe an "excellent" thesis – as opposed to an "average" one or a "poor" one?
Below you will find a partially completed rubric using the above categories required for you to write the assigned whitepaper. You will need to write on the rubric the following:
Along the left-hand column, add in your own words the descriptions for each of the categories that best matches the directions for the assignment.
Along the top row, fill out the percentages for each of the levels of achievement.
Now explain in each cell what's the most important part of each category to match the particular dimension or level of achievement. Some of the cells have been filled out for you already.  These are suggestions only though they are derived from an actual rubric used to assess the above assignment used in a University of Kentucky Composition and Communication I class.
Some Concluding Thoughts:
The purpose of this exercise is to consider ways to improve future projects in writing and creating digital media projects. Take a few minutes to reflect on the rubric you created:
What would you say were your rubric's real strengths? Are there any categories you would work on more if you had time?
What would you do differently with your rubric if you could? What might you do differently in the future?
Based on your research so far, what would you like to learn more about?
By completing this exercise, you have discovered that writing can be assessed fairly and that you can contribute to conversations that constructively resolve differing viewpoints. Ultimately, you should be able to produce better writing.
Additional Resources:
Elbow, Peter. "Ranking, evaluating, and liking: Sorting out three forms of judgment." College English (February 1993) 55, no. 2: 187-207.
Liu, Jianguo, D.T. Pysarchik, and W.W. Taylor. 2002. "Peer Review in the Classroom." Bioscience 52(9): 824-829.
Pearlman, Steven J. Reconciling Writing Assessment: Why Students Should Grade Students. Portsmouth, NH: Heinemann, 2010.
RubiStar. ALTEC at University of Kansas. http://rubistar.4teachers.org/.
"Rubric Examples." California State University Bakersfield. http://www.csub.edu/TLC/options/resources/handouts/Rubric_Packet_Jan06.pdf
"Sample Writing Rubrics." Farnham Writers' Center Online. Colby College. http://web.colby.edu/farnham-writerscenter/sample-writing/
Topping, Keith. "Peer assessment between students in colleges and universities." Review of Educational Research (Fall 1998) 68, no. 3: 249-276.
VanDeWeghe, Rick. "'Awesome, Dude! responding helpfully to peer writing." Research Matters. English Journal (September 2004) 94, no. 1: 95-99.
Wilson, Maja. "The view from somewhere." Educational Leadership: Informative Assessment (December 2007/January 2008) 65, no. 4: 76-80.  http://www.ascd.org/publications/educational-leadership/dec07/vol65/num04/The-View-from-Somewhere.aspx