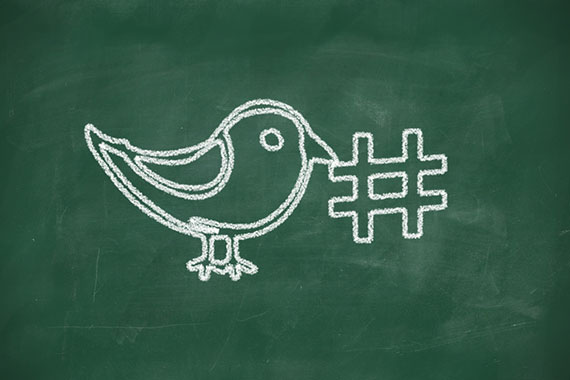 #edchat: Considerd the "grandfather" of educational chats, #edchat is one of the most popular chats and is held on Tuesdays from 12 to 1 and 7 to 8 pm Eastern Time. This fast moving chat attracts participants from all over the world to discuss a variety of topics related to education. You'll also find interesting discussions and resources shared by searching for this hashtag during the week. Learn more at edchat.pbworks.com.  
-----
#edtechchat: is dedicated to all things related to Education Technology and takes place Mondays from 8 to 9 pm Eastern Time. If you are interested in education technology, you'll find inspiring discussions and valuable resources here. Archives are found at edtechchat.wikispaces.com and podcast discussions of each week's chat can be found here on the Bam Radio network.
-----
#tlap: Looking for inspiration?  #tlap was inspired by the fabulous book "Teach Like a Pirate" by Dave Burgess (@burgessdave) and attracts passionate, creative educators seeking to improve their professional practice. Set sail with yer fellow pirates on Mondays 9 pm ET. Ahoy, matey!
-----
#satchat: Fascinating discussions about education and leadership are held on Saturday mornings from 7:30 to 8:30 am Eastern Time. This chat attracts a great combination of teachers and administrators, with inspired results!
-----
If you aren't up that early on weekends, you can catch #satchatwc (Satchat West Coast) at 10:30 am ET. For a uniquely global discussion, #satchatoc attracts a lot of international participants and is held Friday nights at 8:00 pm ET. Learn more at the satchat website. 
-----
#flipclass: Interested in flipping your classroom? Join the #flipclass chat on Monday nights from 8 to 9 pm. Exchange ideas, resources, and best practices with enthusiastic educators participating in the flipped classroom movement. Archives and more information at flippedlearning.org/domain/26. 
-----
#sschat: This can't-miss chat for History/Social Studies teachers takes place Mondays from 7 to 8 pm. English teachers should check out the #engchat discussion held at the same time.  On the last Monday of the month check out #engsschat, when the two combine communities in a shared chat. Learn more about the #sschat community on its ning and about #engchat at engchat.org. 
-----
#ptchat: The goal behind #ptchat is to encourage a transparent & collaborative dialogue between parents & educators. You'll find these fascinating and thought provoking discussions on Wednesday nights at 9 pm ET. Learn more at efacetoday.blogspot.com/p/parent-teacher-chats.html. 
-----
#kinderchat: If you are interested in early childhood education, check out #kinderchat on Mondays at 9 pm ET. This popular chat recently added an additional discussion at 3:30 pm ET to accommodate overseas participants. Learn about this inspiring community on the kinderchat website.  
-----
#digcit: This chat discusses best practices in teaching Digital Citizenship and Literacy on the second and fourth Wednesdays of the month from 7 to 8 pm ET. Find out more information at gonevirtual.org/digcit.html.  
-----

Read more at http://thejournal.com/articles/2013/09/23/13-twitter-chats-for-educators.aspx#wKqddGbEZTYQbPZI.99